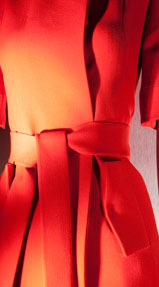 Vateks as being a pioneer in introducing nonwovens to the interlinings world carries the honor of setting new standards in the textile market. Along with its worldly known interlinings such as AKDENIZ, MARMARA, KARADENIZ, and the Termolin 9000 Series, Vateks, thanks to its 35 years of know-how in the nonwovens industry has an elasticity to provide custom-made products by instantly answering to the demands of its customers.
Vateks, by supplying its top quality raw materials like polyester, polyamide, polypropylene and viscose fibers produces and distributes a wide range of interlinings that can be used at various fusible and non-fusible interlining/textile applications. Vateks' main production technologies include double dot, paste point, stitched bonding, and powder coating treatments. The interlinings manufactured by Vateks can be applied as chest supports, embroideries, flatos (pockets) and waist bands in the tailoring of dresses, blouses, jackets, shirts, suits, pajamas, trousers, coats and waist bands.
Thanks to its latest technologic investments, Vateks provides a full range of Nonwovens to be used in shoulder pad and sleeve head roll productions.