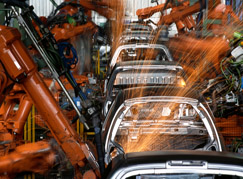 Even though nonwovens in an automobile can not be detected immediately, nonwovens play essential roles for their safety and comfort.
Vateks, through working closely with worldly known automotive groups continues its ongoing development of nonwovens. In addition to the nonwovens for surface materials, headliners and for the engine compartment; nonwovens for insulation, filtration and protection processes are delicately engineered by the skillful team of Vateks.
In addition to offering fabrics for the above mentioned automotive processes, Vateks also produces nonwovens to cleanly remove the piled dust. These dust removers are compatible with all types of automotive paints.